Victoire de Castellane, is known for her spectacularly unexpected color combinations and bold imaginative style. Everything is one-of-a-kind: no two are alike. The jewelry is fun, whimsical, colorful wearable art. Her pieces tell stories that enchant, delight, and challenge all the conventions of high jewelry with their playfulness.
Victoire de Castellane was born into the French aristocratic House of Castellane, that can trace their lineage back to the 10th century. Her family tree includes reigning princes, bishops, generals and noblemen. One of the more notable members was De Castellane's great-grand-uncle Boni de Castellane (1867–1932). He was a Parisian dandy and legend of the Belle Époque who married American railroad heiress Anna Gould.
De Castellane was brought up by her maternal grandmother and her uncle, Gilles Dufour, who was one of Karl Lagerfeld's principal assistants, first at Fendi then Chanel.
De Castellane credits her love of jewelry and it's creation to watching her paternal grandmother, Silvia Rodriguez de Rivas, Countess de Castilleja de Guzman, "change her baubles to match her different outfits several times a day." Her first jewelry-making feat was accomplished at the age of five when she dismantled a priceless charm-bracelet belonging to her mother, transforming it into a pair of earrings. At 12, she created her first ring using gold melted down from the religious medals she'd received at her Communion ceremony.
It is this rich family heritage that both inspires and shapes her work:
"I love the idea of artisanal work, craftsman work, and I have all kinds of influences.
See, I am Parisian-born, but my grandmother was Spanish, and I have Cuban blood
from my great uncle. But, what can I say? I feel like a French woman; Paris is really
my city, my town. I do love to travel, though, especially to Latin countries, to stay close
to my Latin roots. My grandmother was from Andalusia—she was a really strong character
and very feminine. She was always matching her clothes to her jewelry always wearing
lipstick, her nails painted until she was 90."
In the early 1980s, the teenage de Castellane frequented famed Parisian nightclubs such as Le Palace where she first experimented with dressing up in playful, flamboyant styles, often sporting Mickey Mouse ears or a devil's horns headband and wearing lingerie on the outside of her clothing.
This creativity and irreverent regard for the conventional "rules" for fashion lead her to join Chanel in 1984 where she started as a studio assistant. Soon she was working alongside Chanel legend Karl Lagerfeid overseeing the house's costume jewelry designs. She continued at Chanel for 14 years during which time Lagerfeld remarked, "She follows the rules I like best in life: Don't compare. Don't compete. You look at her. You get the message." (The New York Times, 1987)
Since 1998, she has been the creative director of Christian Dior's fine jewelry division. Her sources of inspiration are said to include floral and natural motifs, as well as a global mix of pop culture, such as "Technicolor, Alice in Wonderland, Manga characters, the Brothers Grimm, Walt Disney Pictures, Venus Flytraps, Bassett's Liquorice allsorts, the visual excesses of Bollywood and the darkest depths of the subconscious." -"Affluence Under the Influence", W (magazine)
Every year de Castellane creates a High Jewelry collection and at least one Fine Jewelry collection for Dior Joaillerie, as well as numerous one-off pieces.
As of June 2012, there are 40 Dior Joaillerie stores in 17 different countries.
De Castellane also produces her own collection, Victoire de Castellane, which includes high jewelry, one-of-a-kind pieces. In 2011, de Castellane had her first solo exhibition of personal work at Gagosian Gallery in Paris. The exhibit entitled Fleur d'excès, the show featured a collection of ten one-off pieces with faux-classificatory monikers such as: L. Es Delirium Flash, Quo Caïnus Magic Disco and Heroïna Romanticam Dolorosa.
In 2014 "Animalvegetablemineral", the second personal exhibition of unique object by Victoire de Castellane was presented at Gagosian Gallery Davies Street, London & Gagosian Madison avenue, New York.
De Castellane's latest work for Dior is entitled Soie and is inspired by silk strands and fabric. She recently told Vogue Magazine that "It's fantastic—you start with the idea of something very soft, but you work with something hard," Diamonds, cut and set to mimic the shine and movement of fabric, along with pink sapphires in gold, intended to evoke pleating. Everything is one-of-a-kind and again de Castellane demonstrates her unique idea of color spectacularly pairing the unexpexted.
Naturally, when you pour so much passion and love into gemstones and the pieces that are created aaround them you develop an attachment and sometimes it is difficult to let them go. De Castellane confessed to Vogue Magazine and has said, "I hope they will be happy in another family." One can only imagine that her clients who anxious await her collections will cherish these pieces of de Castellane's exquisite imagination
Current Collection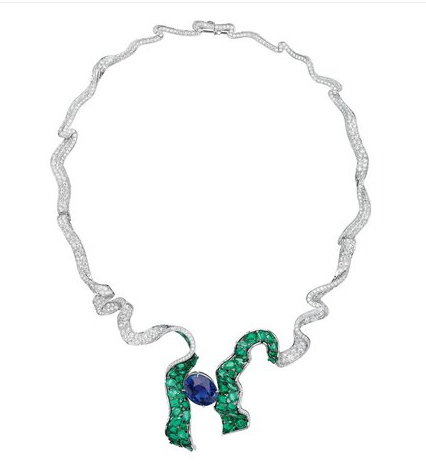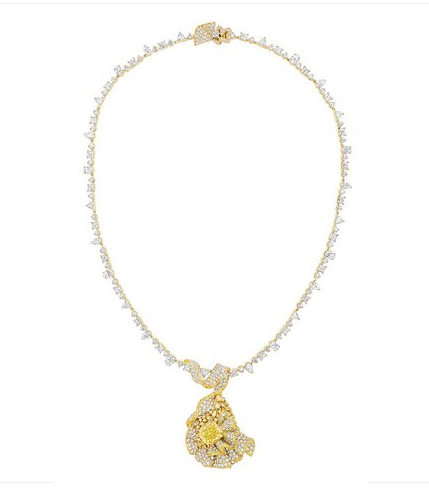 The most recent High Fashion Collection Designed for Dior is entitles Soie and is inspired by silk strands as well as the look and movement of fabric.
A Selection of Past Collections and Exhibits
Her personal work has been exhibited in art settings, including her solo show, Fleur d'excès, at Gagosian Gallery in 2011, and her second personal exhibition of unique object in January and March 2014 called "Animalvegetablemineral" presented at Gagosian Gallery Davies Street, London & Gagosian Madison avenue, New York.
One of the most striking collections created by de Castellane is the 2009 Reines et Rois Haute Joaillerie collection of 20 one-of-a-kind pieces, featuring ten queen rings and ten king pendants. Each with names evoking the stones that make up this imaginary kingdom. Reines et Roi premiered at Dior's world famous Townhouse, 30 avenue Montaigne, Paris. The collection invited viewers to enter a darkened room where they discovered (thanks to a complex and sophisticated lighting process) all the kings and queens appeared to be floating in dark windows creating a ghostly effect.
The skulls borrow stylistically from the Baroque. The skulls are sculpted in stones that each have their own lore of bygone eras attached to them: Chrysolite was used in the Middle Ages to embellish church ornaments; Jasper was worn as an amulet to cure headaches, and Jade which was reportedly beneficial for the kidneys.
In the collection Victoire de Castellane was able to stretch her creativity and imagination extravagant levels both in use of color, but also in the design of the headdresses, crowns, ruffs, necklaces and pendants on these royal figures. Meticulously created platinum mesh-work requiring many setting techniques (including an ancient technique that was rediscovered).
In 2008 a collection entitled Milly Carnivora was designed by Victoire de Castellane for Dior. This collection was inspired by the previous collection Belladone. The collection based on fantasy tropical flowers and carnivorous plants featured eye-popping neon color schemes.
Pieces from Dior Joaillerie's Belladone Island collection were premiered on January 12, 2007 on the online virtual world Second Life. The entire collection was subsequently presented on February 27 in an exhibition in Monet's Water Lilies room at the Musée de l'Orangerie in Paris.
Photos provided by Dior, Vogue, Mike Bruce © Victoire de Castellane. Courtesy Gagosian Gallery, Emily Weiss of Into The Gloss
Kathleen Marino MA, GG, AJP, NAJA